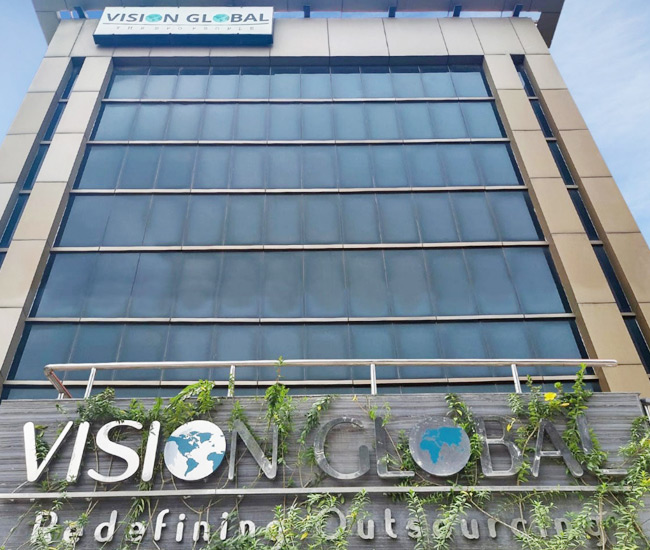 20 Years Of Experience
Vision
Global
Vision Global is a "complete" managed outsourcing service provider with a clear vision to help businesses of all sizes – from a soloprenuer to million dollar firms to simplify their business processes and make them agile. We strive to help each client achieve sustainability in their business with the power of technology.
We handle all your non-core tasks and improve your operational processes, while you, as business owners and decision makers, can focus to grow your business. With headquarters and delivery centre located in Coimbatore, India, Vision Global serves a vast clientele across various industries like Finance, Accounting, E Commerce, Retail, HR firms, Market Survey, Publishing companies, Food and Beverage, Real Estate, Hospitality, etc.
Having been in the ITES industry for 2 decades now and working with clients from North America, UK, Europe and Australia, we have processed millions of data by which we have acquired rich domain knowledge. We provide customized solutions and services to perfectly fit our customers' needs.
'State-of-the-art'
IT infrastructure
Robust Operations
Management Systems
Fool-Proof
Quality Management Systems

Uninterrupted Power/Electricity and Internet with Backups

24/7 Operating facility which is fully secured with strict Access Control and Monitoring

Highly Experienced Leadership and Well Trained Staff to perfectly deliver the Clients Requirements

A Very Flexible and easily workable "Plug and Play" engagement model which does not need you to have a very deep pocket
Our
Team
Vision Global is more than a company… We are a family!
Our team has been carefully built on the platform of our success in delivering "managed outsourced services". Our strength is the loyalty of our staff and the trust of our clients. Our team of 200+ staff is professionals who look forward to new challenges each day.
We, at Vision Global, take a lot of responsibility and pride in what we do - providing Managed Outsourcing Services. Our services cover a wide range of Data services, Ecommerce Product Data Services and Virtual Assistant Services. We put our client's success in the heart of what we do.
Customers delight is our overarching philosophy!